Admission Open For 2024 - 2025 Tiny Scholars to Class X
Purushottam Bhagchandka Academic School is celebrating 22 years of academic excellence. It is an English medium co-educational school with the best infrastructure in the city. The school has a dedicated faculty of highly qualified and efficient teachers, who use modern techniques of teaching. A special impetus is given to Co-Curricular activities and children are trained in various sports such as Basketball, Cricket, Table Tennis, Karate, Yoga etc. Special classes are conducted in Chess, Foreign language, Photography, English elocution and others. 
Our school motto is "Faith and Dedication ignites Knowledge". We aim to create future leaders through our commitment towards learning and imparting education that encourage students to think out of the box and value excellence.2
Age Criteria for Admission
Tiny Scholars : Born in 2021
Pre Nursery : Birth Date between Jan 2020 – Dec 2020
For Nursery : Birth Date between Jan 2019 – Dec 2019
For KG : Birth Date between Jan 2018 – Dec 2018
Admission Procedure
Admission open for the session 2024 – 2025 for Pre-Nursery to Class IX only.
Admission form is available online. Click Here

From school office prospectus and form are available from Monday to Saturday between 10:00am – 2:00pm.
Infrastructure Highlights
The school is proud to add 50,000 sq feet area more to the existing facility. This will help us to house more students as the popularity of the school is growing. The school authorities are in a continuous lookout to innovate and upgrade facilities for the betterment of its students.
The new Infrastructure includes
Science, Geography and Math Lab
Great Sports Infrastructure
Multi-Purpose Hall / Auditorium
Language / Multimedia Room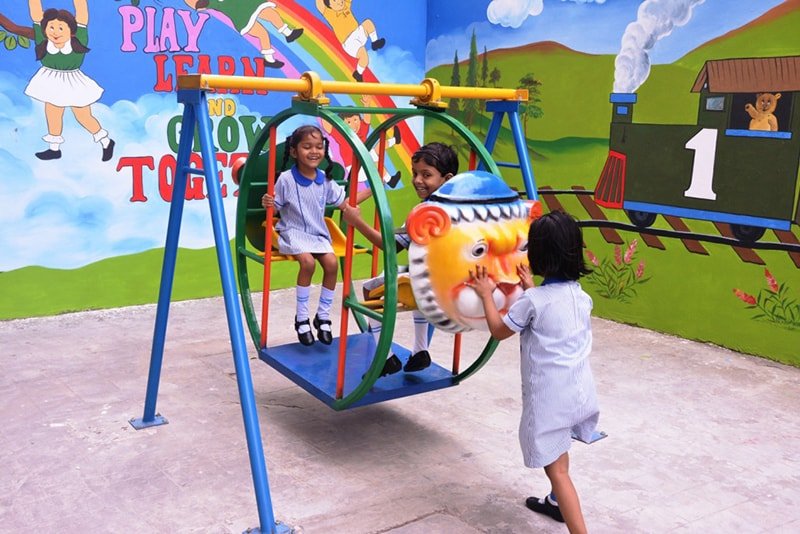 All educators know that the atmosphere within a school contributes as much to the success of the student as the curriculum.
Playarea for the kindergarten students at our campus facilitates various types of physical play that help develop different skills of the child.
Expert teachers are aware of what they are doing; they monitor and adjust their teaching behaviours to bring out the best in their students.
We have smart class facility, activity rooms, auditorium, labs, library, playground, science labs, multisports facility, transport etc.
Pre Primary
Pre Nursery, Nursery, KG
The Pre Primary School Curriculum is designed to develop clarity of thought and expression. It covers the psychological, physical and emotional growth of each child. Activities like singing,recitation, reading, writing, games are introduced. It is a fun place- a place to grow and learn. The curriculum is divided into two terms, to encourage a better evaluation. Worksheets are used to test the progress of the students. Aim is to develop the oral skills of the child and bring out their hidden talents. Computer Education is introduced in KG.
Junior
Middle School
ICSE CLASSES IX-X
We're proud to share the wonderful achievements of our rockstars with you. Here are our champs who not only  excel in academics, but also bag the most coveted awards in extra-curricular activities.
Best speaker in the lack of security in the vicinity of schools organised by kolkata traffic police.
Best speaker in the speech competition organised by Andrew Yule.
Abantika Saha & Satyam Kr. Jha
1st in the state level in the Eastern zone. 4th in the national level in the NDTV HDFC ERGO quiz.
Souhardya Kundu & Anil Subhra Dutta
1st in the state level and 6th in the National Level in the quiz organized by M.P.E.D.A (ministry of commerce).
Telegraph Award For Courage & Thank You Baba Ma Award
I feel at rest and am intensely happy that my daughter Hiya Biswas of class IV-A is in a school of high repute, that is Purushottam Bhagchandka Academic School. It will not be inept to mention here that, with the passage of time, the amelioration of this school has been expanded in different field with glorious achievements. From administrative stratum to teaching, above all is taken care of nook and corner. Needless to mention again that this school is imparting all round education in right earnest to enable the students to imbibe good values of discipline and morality coupled with academic excellence. I am confident that, Purushottam Bhagchandka Academic School will, in no time, be a topper amongst other schools based on the activities now being stretched all through.
Sanjukta Biswas
As parents it was very important for us to choose a school that could provide the right balance of academics, sports and extra- curricular activities and I am glad that Purushottam Bhagchandka Academic School offers all of it. My son Pritam Bhattacharya is learning chess and table tennis and is doing excellent in both the fields.
SHUVRO BHATTACHARJEE
My daughter has excelled academically in this school with the constant support of the teachers which is brilliant, Thorough explanations provided for each chapter and frequent revisions have helped her a lot.
SITEN KUMAR MANNA, Parent of Ojaswi Manna (IX A)
My daughter studies in class 5 and her improvement as a learner is evident in the school's exceptional academic quality. I am very happy with the progress.
Avirup Bhattacharjee
Purushottam Bhagchandka Academic School successfully prepares students for their future education, growth and development. The results are reflected in my three kids studying in this school. I am glad that we don't have to depend on private tuition because of the detailed classwork done in the school.
Mohammed Saifshaan S.M
I would like to thank this school for helping my child to build up his self-confidence and self –esteem. The school has provided constant guidance and support to my son in maintaining his love for learning.
Kishori Kumar Kar (Parent of Vikash Kumar Pati III - A)
My daughter has really benefited from this school- from its curriculum and its culture. It is truly a place that offers choice to its students to think for themselves and looks at students holistically.
Parent of Atrija Bhattacharya (V - A)
Purushottam Bjhagchandka Academic School is really " A SCHOOL THAT CARES". As a parent I am observing this at every moment through the achievements of my son, Archisman Banik.
Anindita Banik
With due respect I, Rajashree Nag Das, mother of Sayandeep Das 4(B), would like to inform you that we are highly grateful and thankful for arranging the online classes for our children during the lockdown period. The teachers are doing a commendable job. I appreciate the way they are managing the classes and maintaining the discipline. Not only that they are also observing each and every child's performance during the class which is indeed a very difficult task in the virtual classroom. Even the teachers are regularly checking the class work and homework of the students.  We are also happy and excited as the school is going to celebrate Rabindra Jayanti this year on a virtual platform. We are proud to be a part of P. B Academic School .
Rajashree Nag Das
The teaching standard at P.B. Academic school is incomparable and the continuous effort of the faculty has been noticeable in my son's class- 5 final grades.
Amrita Bose
Purushottam Bhagchandka Academic School has provided a multi-dimensional platform for students as well as helped them to get exposed to various fields of thoughts and experiences. The innovativeness in various days celebrated like Grand Parent's Day, School Carnival etc has helped my child to understand the importance of these days.
Sucharita Dutta (Parent of Shreenika Dutta, Pre Nursery)
As parents it was very important for us to choose a school that could provide the right balance of academics, sports and extra- curricular activities and I am glad that Purushottam Bhagchandka Academic School offers all of it. My son Pritam Bhattacharya is learning chess and table tennis and is doing excellent in both the fields.
Parent of Pritam Bhattarcharya (VI - A)