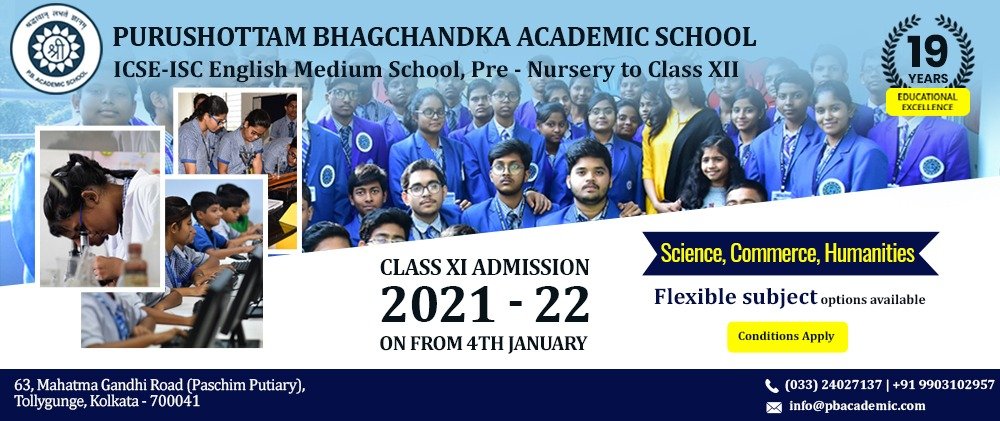 WhatsApp-Image-2021-01-08-at-6.06.18-PM
Purushottam Bhagchandka Academic School is celebrating 19 years of academic excellence. It is an English medium co-educational school with the best infrastructure in the city. The school has a dedicated faculty of highly qualified and efficient teachers, who use modern techniques of teaching. A special impetus is given to Co-Curricular activities and children are trained in various sports such as Basketball, Volleyball, Badminton, Karate, Yoga etc. Special classes are conducted in Chess, Foreign language, Photography, English elocution and others. 
Our school motto is "Faith and Dedication ignites Knowledge". We aim to create future leaders through our commitment towards learning and imparting education that encourage students to think out of the box and value excellence.
Get In Touch With Us For More Details
Candidates who have been awarded Pass Certificates in the ICSE with pass marks in five subjects including English are eligible to be admitted in ISC ( Class XI ).
Condition of Eligibility.
English is compulsory subject for all the streams & four elective subjects have to be chosen. Streams offered Science, Commerce, Humanities.
Ratification of choice of subjects depend on the academic record
CRITERIA FOR ADMISSION IN CLASS XI
SCIENCE
65% in Science and Mathematics in Class IX's Final Examination.
COMMERCE
60% in Mathematics for taking commerce-subjects with Maths and 65% in English in Class IX's Final Examination.
HUMANITIES
65% in English in Class IX's Final Examination.
FOLLOWING ARE THE SUBJECTS ON OFFER FOR THE SESSION 2021-22
GROUP 1 (Compulsory Subjects)
Physics
Chemistry
English
Mathematics
Psychology
Physical Education
Biology
Economics
Computer Science
Home Science
GROUP 1 (Compulsory Subjects)
Accounts
Commerce
2nd Language ( Hindi/ Bengali)
English
Business Studies
Physical Education
Mathematics
Psychology
Computer Science
Home Science
Economics 
Biology
GROUP 1 (Compulsory Subjects)
History
Political Science
2nd Language ( Hindi/ Bengali)
English
Geography
Physical Education
Mathematics
Psychology
Computer Science
Home Science
Economics
Biology